From Threads to Fabric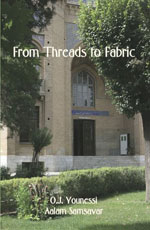 Ali and Farhang met at kindergarten. They were quite different but instantly befriended each other. The friendship of two boys flourished into that of two teenagers and ultimately endured into adulthood.
Setbacks only strengthen such friendships. These stories tell of the setbacks too. After all what makes life sweet is the way we rise above these setbacks. There is no joy without sorrow, no light without darkness, and no sweet without bitterness. It is also exactly that which makes us realize who our friends really are.
Farhang had fire in his soul. He was feisty, intelligent, defiant, and "out-of-control". Ali was level-headed, clever, rational and had come to be seen as the one element that held Farhang's fire under check. Farhang would set in motion a snowball that soon became an avalanche! As he stood back to watch the havoc he had wrought it was invariably Ali who saved the day.
But their world was about to change. They knew nothing of politics and cared for it even less. That autumn the foliage of the trees of the main school quadrangle had no more chance of resisting change than Iran herself had of avoiding the revolution. These stories tell of these changes. They had one thing else in common. The very Fabric that weaved their destiny together so inseparably: Alborz High School.